Borleyi Cichlid (Copadichromis borleyi)
From The Aquarium Wiki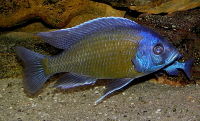 Additional names
Borleyi Cichlid, Kandango Cichlid, Borleyi Goldfin Cichlid, Redfin Cichlid, Red Empress
Additional scientific names
Haplochromis borleyi
Origin
This section requires expansion with:
Location where this animal is found in the wild.
Sexing
Males have a blue face and head with a brown/orange body complete with a white band along the upper edge dorsal fin. Mature females and juveniles have different colouration, their bodies are steel grey with orange fins. These fish are mouthbrooders.
Tank compatibility
One of the more peaceful Malawi Cichlids. Will usually mix well in a community of similar sized Malawi fish.
Diet
This section requires expansion with:
Details on what this species will eat..
Feeding regime
Environment Specifics
Prefers rocky substrates with hiding places.
Behaviour
Fairly peaceful although the male can be hard on the females during spawning.
Identification
See sexing. There are regional variations on colour.
Pictures
External links